Family Dentistry in Coptfold
There is a very wide intersection between general and family dentist in Coptfold, here at Coptfold dental practice we provide the highest standards of dentistry for the whole family. This means being able to provide an entire range of dental services, whilst tailoring them to the age group. There is a significant difference between the care we provide to our youngest patients and our most mature ones.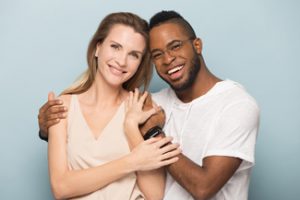 Dentists for the whole family
We do not divide up which dentist you see based on your age group, allowing a daughter, mother and grandmother to all have the same dentist in Coptfold. When it comes to taking care of our youngest patients, it is usually education that is paramount. We take the extra time to teach good oral hygiene and the fundamentals of brushing. Starting early is the best preventative for cavities and unnecessary tooth extractions later in life.
This is in stark contrast to our eldest patients for whom the 6-month trip to the dentist is less about their teeth and is more about the maintenance and fitting of dentures or other oral prosthetics. And yes, even patients with no teeth have to attend the dentist in order to assess their gum health.
Dental charting
A part of family dentistry that is often lost on patients is charting; charting is that bit at the start of every dental examination where the dentist reads out the number code of each tooth and comments on it's current health and any possible future risks. Charting not only indicates which teeth are at risk of future issues but also the time scale in which these changes have occurred.
This can provide very important diagnostic information; although a cavity, in general, is unpleasant, it is not considered unusual. A large quantity of cavities occurring in a very short period of time indicates a sudden change for the worst, possibly in diet or lifestyle changes that want to be addressed; this can be particularly worrying when it occurs in a young child. Alternatively, charting in adult patients can be used to regularly observe suspicious areas of tissue as part of a cancer screening programme. Unusual tissue or growths which have not changed for many years are likely to be benign but this can only be very crucial if accurate and diligent charting has been carried out.
In the past, the difference between your general dentist and your family dentist really was who obtained your complete dental records as these large bulky files were not easily transferred between surgeries and if you were out of town, you would see a general dentist rather than your trusted family confidant. With most clinics keeping their dental records in a digital format that is easily shared including digital x-rays and full 3D scans of patient's mouths, this difference is becoming less important.
We're proud to have had such a long and excellent track record with so many members of our local community and truly becoming a dentist in Coptfold, as our patients are proud and happy to be our patients. If you have any questions about availability or would like to book an appointment in order to register with our clinic, feel free to get in contact.
---